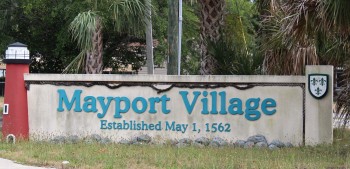 The Mayport area has undergone many changes over the centuries.  Even the St. Johns River, which has directly and indirectly brought about many of these changes, has been given several different names over the years. Among other titles, the Timucuan Indians were said to have called the river Welaka, or the River of Lakes, due to the many tributaries, lakes, and marshlands that are connected.  Some of the first Spanish explorers who came to the area bestowed the river with the name of Rio de Corrientes, which translates to the River of Currents alluding to the turbulent and changing conditions at the entrance to the river between Mayport and Ft. George.  French Huguenots around the same time began to call the same body of water the Riviere de Mai, or the River of May.
During Florida's territory days from 1821 to 1845, the Mayport area was known as Hazard (sometimes written as Hazzard).  This period of time contained many of Mayport's milestones, including the construction of the first two lighthouses and the early days of the bar pilots.  The name change to Mayport Mills in the 1840s is attributed to Kingsley B. Gibbs, the nephew of Zephaniah Kingsley of Kingsley Plantation in Ft. George. Gibbs opened a saw mill in Mayport, capitalizing on the lumber industry in the Beach area, a few years after purchasing Kingsley Plantation.
After the Civil War, Mayport became an area geared toward tourism and recreation, utilizing its oceanfront location and abundant fishing opportunities.  It was not until 1909 that Mayport was officially deemed a city with plans to expand, which were likely ended by a large fire in 1917 that burned down several buildings.