"Water.Life. Art." by Annelies Dykgraaf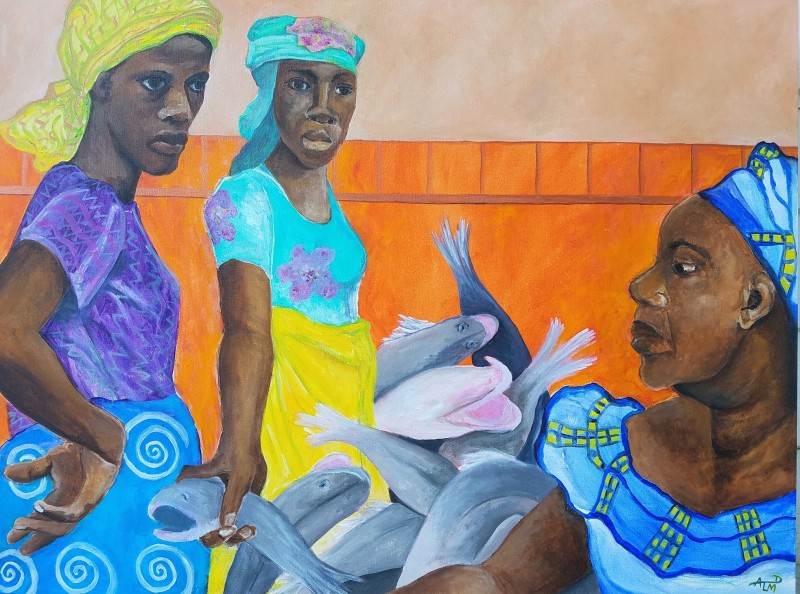 The Beaches Museum is pleased to announce the upcoming exhibit "Water.Life. Art." by artist Annelies Dykgraaf.
Dykgraaf's acrylic paintings and relief prints are inspired by the connections of the people, symbols, textile patterns, and mythological motifs of her birth land of Nigeria, West Africa and her homeland of Jacksonville, Florida.
Although on different continents, both Nigeria and Florida share coastlines of the Atlantic Ocean. In Nigeria, the Niger River allows fertile life to thrive just as the St. Johns River nurtures life in Florida. Along both bodies of water, people derive their culture.
Annelies Dykgraaf holds a Bachelors in Fine Arts from Calvin College and studied in France through the Cleveland Institute of Art. She is a leader of the visual arts and philanthropy community as a founding member of Jacksonville Consortium of African American Artists (now recognized as the Jacksonville Cultural Development Corporation) and The Art Center Cooperative, Inc. She has served on the Board of Directors of the Beaches Fine Arts Series for twelve years. She currently serves on the Board of Directors of the Jacksonville Artists Guild.
This exhibit is free to Museum members with a suggested $5 donation from non-members. The exhibit will be on display July 26 to November 11, 2019. For more information, please call 904-241-5657 or visit www.beachesmuseum.org.