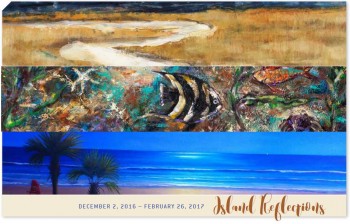 In a continued celebration of local artists, the Beaches Museum & History Park is proud to present the works of Gary Mack, Linda Olsen, and William Meyer in its upcoming exhibit "Island Reflections".
Join all three artists Friday, December 2 from 6-8 p.m., for the first look at "Island Reflections". All artwork will be available for purchase, just in time for the holidays!
Mack draws inspiration from the colors of nature, and places around the world he has visited. He prefers to paint using oil, acrylic, and watercolor and has created beautiful works of locations and scenes immediately familiar to locals.
A professional photographer by trade, Olsen specializes in weddings and portraits. She is also an accomplished painter; most of her paintings are related to ocean and beach landscapes as a result of her love of the sea.
As a member of The International Decorative Artisans League, Meyer focuses on aesthetic collaboration with interior designers, builders, architects and clients. Born in the Canal Zone, Panama, Meyer lives and works in Jacksonville Beach where he creates works of abstract expression.
All events are free to Museum members with a $5 suggested donation for non-members.
For additional information on this very special exhibit, please call 904-241-5657