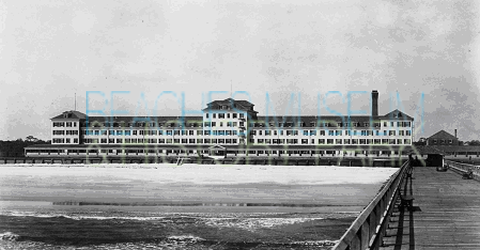 The Continential Hotel
In 1900, after purchasing the Jacksonville and Atlantic Railway, which ran from South Jacksonville to Pablo Beach, and making it part of his Florida East Coast Railway system, Henry Flagler built the Continental Hotel on the railroad line between Pablo Beach and Mayport. A summer resort, the Continental was a massive colonial yellow building with signature green blinds. The Continental had 250 guest rooms, 56 baths, large parlors, and a huge dining room. Although the exterior was architecturally simple, the interior was considered luxurious. For guests' enjoyment, there was a 9-hole golf course, a dance pavilion, a fishing pier, tennis courts, and a riding stable. There was a train depot on the west side of the hotel.
The Continental changed names in 1913 to the Atlantic Beach Hotel. Unfortunately it burned to the ground in a spectacular fire in 1919 on September 20th. A new hotel, also named the Atlantic Beach Hotel, soon replaced the wooden structure and remained in operation until the late 1960s. The later hotel was much smaller than the original. Nothing since has ever compared to the grandeur of the Continential Hotel.
Also Read
Historic Hotels at the Beaches
Continential Hotel – Atlantic Beach, Florida