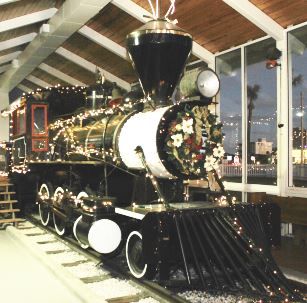 December 7, 2018 - 2:00 pm
Don't miss the opportunity to meet Santa and the Conductor at the Beaches North Pole Express!
This two day event will take place Friday, December 7, 2-6 p.m. and Saturday, December 8, 9 a.m. – 4 p.m. Visitors are invited to write a letter to Santa, enjoy cocoa and cookies, watch the movie "The Polar Express" in the Dickinson Gallery, make crafts, and enjoy other festivities in the History Park.  In the Upper Depot visitors will find the Beaches Museum's very own operating Beaches North Pole Express which will temporarily replace the Florida East Coast Railroad train normally found there.
Beaches North Pole Express is free to Museum Members with a suggested $5 donation from non-members. Please contact the Museum at (904) 241-5657 for further information.
This event is generously supported by VyStar Credit Union, The World of Dance, MorganMacKenzie Design, and Rockaway, Inc.