The Continental Hotel of Atlantic Beach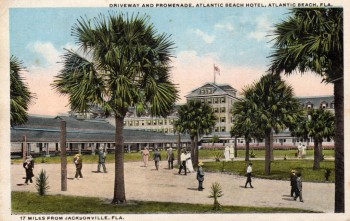 When Henry Flagler purchased the Jacksonville and Atlantic Railway line for the Florida East Coast Railway in 1899, he was already envisioning another addition to his line of Florida winter resorts: The Continental Hotel.
Jacksonville's tourism boom in the 1870s and 1880s sparked interest in the resort potential of the Beaches area with early attempts including the Murray Hall Hotel and Burnside Beach Resort. The Murray Hall Hotel, which opened in 1886, was located in Pablo Beach and boasted several amenities such as electric generators, billiards, and a Sulphur water spa. The grand hotel did not last long, however, and burned down in 1890.
Burnside Beach was a resort in the East Mayport area owned by the Jacksonville, Mayport and Pablo Railway & Navigation Company. Burnside opened around the same time as Murray Hall Hotel, although a fire in 1889 damaged several of the buildings and piers and brought the resort to an end. Flagler's creation of the Mayport Branch of the FEC Railway and the Continental Hotel renewed interest in tourism for the Beaches.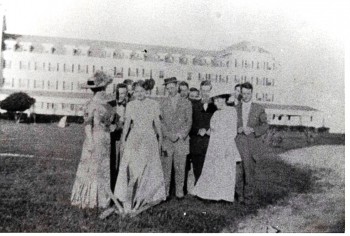 The Continental Hotel, constructed on the oceanfront in Atlantic Beach, opened in June of 1901. While it still featured luxury accommodations like Flagler's other Florida resorts, it was simpler in design than hotels like the Ponce de Leon in St. Augustine. The hotel featured its own golf course, a detached veranda that wrapped around the hotel for lounging, an 800 foot ocean pier—the Atlantic Beach Pier—for fishing, picturesque drives around the area, and automobiling (racing) along the shore. Stretching along the oceanfront at 447 feet long and 47 feet wide, the wooden hotel provided a grand and palatial figure at the Atlantic Beach seashore. The building was yellow—a specific shade used by the FEC—with green shutters, accommodations for over 200 people, and a dining room that could seat 350 people. In advertisements for the hotel, the building was described as having an architectural design which was "perfectly balanced and pleasing to the eye" with its symmetry.
Despite all of its advantages, the Continental—opened for both summer and winter seasons—was sold in 1913. The hotel was then known as the Atlantic Beach Hotel until the building burned down in 1919.