Remembering Hurricane Dora: The 50th Anniversary
Begins:
Wednesday 09-10-2014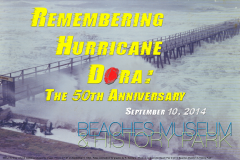 Fifty years ago Hurricane Dora blew into the Jacksonville Beaches area. The Beaches Museum is observing the anniversary of this awe-inspiring storm with a new exhibit opening September 10 to November 9. The 1964 hurricane season produced a great deal of destructive activity in Florida, but no other storm affected the northeast area of the state quite as much as Dora. In fact, Dora was the only hurricane-level storm to directly hit the Beaches area in the 20th Century. The 50th Anniversary exhibit looks back at the wave of destruction that Dora brought to the First Coast and the determined efforts of residents to restore their homes and livelihoods.
Wednesday, September 10th, 5:30 

P.M.

-7:30 

P.M.

 Admission is $5 and free for museum members. The reception will be located in the museum lobby.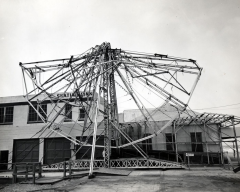 Since hurricane tracking started, Hurricane Dora was the first direct hit to the First Coast. The Category 3, turned into a Category 4 Equivalent storm, dropped to a Category 2 storm as it reached landfall, causing tremendous damage to businesses and homes along the First Coast, and reaching far inland as well.
Inthis exhibit, you will see why the Boardwalk, Roller Coaster, Ferris Wheel, and many coastal businesses ended for good.
Sponsored by: 

381 Beach Boulevard
Jacksonville Beach, FL 32250-5240