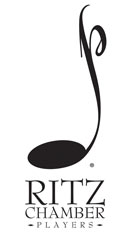 March 18, 2020 - 7:00 pm
The Ritz Chamber Players performance celebrating Women's History Month will speak to the constant struggle both past and present of women fighting for an equal voice within music. Throughout the history of classical music spanned a period in history when women did not possess many rights and freedoms. During this time, it was generally seen as unorthodox for a woman to compose. "She! Is Silent No More" is a performance showing the incredible contributions of notable and ordinary women, and women of color, within classical music.
The concert is free to members with a $5 requested donation for non-members. Check-in, donation bar and reception will begin at 6:00 p.m. with the concert commencing at 7:00 p.m. No reservations are required.