September 1967 Mid-Air Collision Results in Death of Six Servicemen
Charlie Holbert was having dinner with his wife and two young sons on Wednesday, Sept. 27, 1967, when he first heard the roar of an approaching airplane flying dangerously low over his home in the Ocean Forest section of Jacksonville Beach.
The Southern Bell traffic engineer ran outside just in time to catch a fleeting glimpse of a U.S. Navy plane struggling to stay aloft in the rapidly disappearing daylight. Holbert's three-bedroom house was within easy walking distance of the Intracoastal Waterway where the crippled plane seemed to be heading. Seconds later, he heard "the sickening sound" of the plane crashing into the nearby mud flats.
Forty-five years later, after reading a retelling of the crash in The Beaches Leader, Holbert came to the realization that he and his family may actually owe their lives to the heroic actions of the pilot of that ill-fated maritime patrol plane, Lt. Michael P. Myers.
Seconds earlier, the aircraft had collided with a Navy jet that had lost radio contact with its Mayport-based aircraft carrier, the USS Shangri-La. The mid-air collision, which occurred around 6:30 p.m., took the lives of six servicemen: five in the patrol plane and one in the F-8 Crusader jet. Many believe the 30-year-old Myers deliberately ditched his aircraft into the river to avoid any collateral damage on the ground.
After clipping the tail section of Myers' plane, which was headed south to NAS Jacksonville, the Navy jet plunged into the Intracoastal, its lone occupant, Lt. (j.g.) Mark E. Garrett of Light Photographic Squadron 82 of NAS Cecil Field, still strapped into the cockpit. An airman permanently assigned to Myers' plane gave up his seat on the twin-engine turboprop so 19-year-old Philip R. Huggins could get some flight time. Also killed were radioman Marion E. Young, 25, and Lt. Cmdr. R.H. Ford, 33, a Naval Reserve co-pilot on a two-week active-duty assignment. "It was a sad experience to see so many friends lost that day," recalled the airman whose life was spared.
Holbert wasn't the only eyewitness to history. Nancy Broner was at Fletcher High's football stadium cheering for her junior high classmates when she noticed something alarming in the sky overhead. "Those planes are going to collide," Broner recalled in 2012. "One of them went nose down."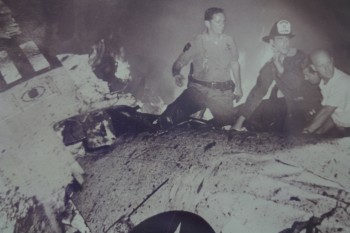 Rush Abry, a well-known Beaches photographer, managed to capture the only image of the crash site after wading through chest-high water to reach a tiny island where the patrol plane crashed and burned upon impact. His stunning black-and-white photo of four first-responders straddling the plane's crumpled fuselage as a fire blazes behind them won a state press award for on-the-spot photography.
Abry's waterfront home in Jacksonville Beach overlooks the marsh and the scene of the crash. A few years ago, the widow of Charles M. McLarty, a 26-year-old crewman on the aircraft, traveled to Jacksonville Beach to pay homage to her late husband. She and Abry posed for a picture on the back patio of Abry's home with the island hauntingly looming in the background. Shortly after the tragic accident, Sheila McLarty (now Moore) and Lt. Myers' widow, Jeanne Hand, invited Lt. Garrett's widow, Linda, to dinner. Each had suffered a tremendous loss, but their friendship didn't suffer because of it. Recalled Hand 45 years later: "I wanted Linda to know that we were not upset with her, and that there were no hard feelings."