Palmettos, Piers & Pioneers: The Story of Palm Valley
Begins:
Thursday 02-19-2015
Ends:
Wednesday 04-22-2015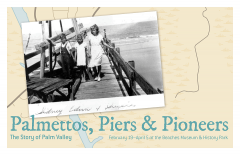 This quiet community is alive with history and stories from the early Spanish settlers to the pioneers who called it home and the families who protect its legacy today, this quiet community is alive with history and [memorable] stories. Join us as we travel through the areas of Palm Valley-Twenty Mile Station, Palm Valley Bridge, the Neck, Mickler's Pier, Diego Plains and Palm Valley Landing,-and learn about the families and industries that have shaped this community.
Opening Night, Thursday, February 19, 6:00 
P.M.

-7:30 

P.M.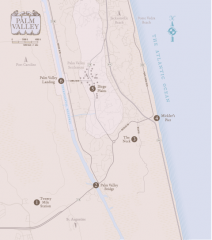 Join some of Palm Valley's most well-known residents, authors and historians for the opening of this exhibit and enjoy the tastes and sounds of old Palm Valley. Guests will be the first to hear an exciting announcement regarding the preservation of one of Palm Valley's best-known homes, the Oesterreicher-McCormick Homestead.
A donation of $5  is suggested to support the Museum. The reception will be located in the museum lobby.
Tales from Palm Valley: Saturday, February 28, 1 
P.M.

-2:30 

P.M.

Storytellers from Palm Valley including Sid Mickler, Worley Faver, Michel Oesterreicher and Hugo Mickler will sit back on rocking chairs and tell the tales (and some tall tales) that make Palm Valley one of the most unique and interesting areas of Northeast Florida.
Thanks
Thanks to our exhibit committee:
Michel Oesterreicher
Donna Mickler Wilson
Deborah Andrews
Sid Mickler
Suzanne McCormick Taylor
Neil McGuinness
Greg Leonard
Sarah Jackson, Curator
Thanks to our exhibit sponsors:
Chao Framing
Glen Layton Homes
Jack & Lori Schmidt
Palm Valley Community Center