Celebrate 25 Years of Enrique Mora Art on the First Coast
Begins:
Thursday 04-30-2015
Ends:
Wednesday 06-22-2015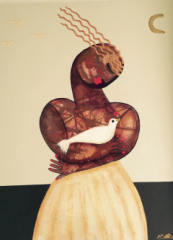 In a continued celebration of talented beaches artists, the Beaches Museum & History Park will be featuring the work of Enrique Mora in its upcoming exhibit, MORA: 25 Years on the First Coast.
Beginning with an opening night party on Thursday, April 30 at 6 P.M., the exhibit will run through June 30.
About Enrique Mora
Mora, who was born in Puerto Rico, uses his heritage to infuse color, passion and the aesthetics of the island in to his work. A self-taught artist, Mora works in oils and mixed media and focuses primarily on the female form in his work.
After touring the United States and Puerto Rico and developing an international following, Mora settled in Northeast Florida in the 1980s, developing a niche in Jacksonville. "We are very excited to celebrate the 25 years of his life and his art in our community" says Chris Hoffman, Museum Executive Director. "We hope to share his work with a wide and diverse audience through display at the Museum."
Admission for opening night is free to Museum members with a suggested donation of $5 for nonmembers. For more information please call 904-241-5657.
Check out a Video of Enrique at Work
381 Beach Boulevard
Jacksonville Beach, FL 32250-5240