October 14, 2018 - 10:00 am
Beaches Museum & History Park
The Beaches Art Fest, is a juried art and fine craft event presented by The Beaches Museum & History Park and Driftwood Jacksonville Beach and produced by Holiday Art Shows. It will consist of outstanding artists and craftsmen from around the country. The jury committee carefully selects only the best work in each category assuring a well-rounded quality art and fine craft festival.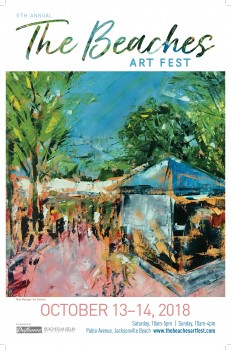 You'll find everything from exquisite jewelry to funky and functional pottery, abstract sculpture to glistening glass, hand-woven fashions to stunning photography, extraordinary paintings to wonderful wood carvings; this is an art fest you won't want to miss!
Stretching two city blocks, Pablo Avenue will become an extraordinary outdoor art gallery highlighting the true stars of the event; the artists. Each is available to discuss their work, share their stories and answer your questions. This is the perfect opportunity to explore a wonderful palette of diverse artwork. It is going to be a great event with something for everyone!
For more information about Holiday Art Shows and The Beaches Art Fest click here.
The Beaches Art Fest is presented by the Beaches Museum & History Park and Driftwood, Jacksonville Beach, FL and produced by Holiday Art Shows, St. Augustine FL.