This article was written by Fall 2018 Beaches Museum intern, Alex Morales.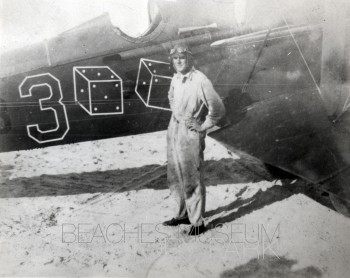 After planes were used during the Great War for air-to-air combat, surveillance, and mail carriers, many U.S. pilots began using their skills to push the limits of aviation technology. Some modified their aircrafts to perform in stunt shows. Others, like Charles Lindberg seized the opportunity to create distance and time records. However, he was neither the only pilot nor the first to make a mark in the aeronautical history books. Jacksonville Beach played host to one famous record breaking pilot, Lt. James H. Doolittle, who set a new transcontinental flight record in 1922.
Before breaking flight records, Doolittle was a flying instructor with the Army Air Service in Eagle Pass, Texas where he performed border patrol duties. After years of planning, Doolittle prepared his military issued DeHaviland plane to withstand the long distance flight across the U.S. He stripped it of excess weight so it could support a 285 gallon fuel tank and still remain light. On August 6, 1922, at Pablo Beach (present-day Jacksonville Beach), a large crowd of well-wishers and spectators gathered to see him take off. As his plane taxied across the beach, it got caught in soft sand making it veer into the ocean.
Although embarrassed by the faux pas, Doolittle made the necessary repairs to his plane to try again. On September 4, 1922 at 10 pm, with just kerosene lanterns to illuminate the beach, Doolittle soared into the skies and into history. Twenty-one hours and nineteen minutes later, he touched down in San Diego and broke the transcontinental flight record. Making only one stop in San Antonio, he averaged a speed of 105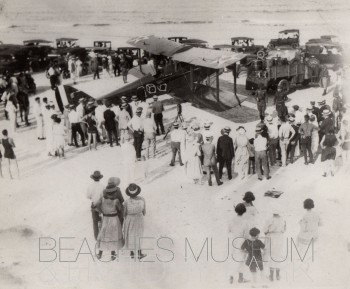 miles per hour and stayed at an altitude of 3,500 feet.
Pablo Beach figured greatly in aviation history due to its location. The distance between San Diego and Pablo Beach is the shortest transcontinental route—a distance of 2,270 miles. The southern route contained fewer mountain ranges and provided relatively better weather conditions for flying. With more military bases along the route, it also ensured that pilots had more opportunities to land safely, refuel, or to seek assistance and shelter in emergency situations. Additionally, beaches served as a prime location for airplanes as the long stretches of sandy shoreline provided an area for pilots to land and take off.
Before Doolittle, Robert Flowler's flight on October 20, 1911 was the first southerly coast-to-coast flight to land in Pablo Beach. His endeavor took 115 days. Albert D. Smith and his group took 18 days to land in Pablo Beach in 1918. The following year, Major J. T. McCauley flew from coast to coast in 25 hours and 45 mins. Two years later in 1921, Lt. William DeVoe Coney landed in Pablo Beach from San Diego i
n 22 hours and 27 minutes.
After making aviation history, Doolittle went on to become a Lieutenant General in the United States Air Force. On April 18, 1942, he and his crew, the Doolittle Raiders, flew 16 bombers leading the first surprise raid on Tokyo. His actions during WWII earned Doolittle military distinctions.
Years later, the Beaches Area Historical Society sought to commemorate the military hero for his role in the history of Jacksonville Beach. On September 4, 1980, the Society invited Lt. Gen. Doolittle back to Jacksonville Beach to unveil and dedicate a marker honoring his historic flight in 1922. The marker continues to stand tall in the Museum's history park.