Art Fest Poster Contest Winner Announced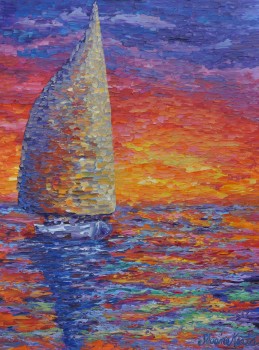 The winner of the 2017 Beaches Art Fest Poster Contest is Sloane Keats of Indialantic, Florida.  Keats uses a layering technique and vivid colors to create a captivating texture in her paintings.  Her entry "Alone" captured the essence of the event and its coastal community.  "I bring a contemporary style to a traditional way to paint.  Focusing on texture, color, pattern" said Keats.
"We had so many great entries which bodes very well for the quality of the artwork that we'll expect at this year's festival" said Chris Hoffman, Executive Director of the Beaches Museum.  "Making the event two days long has been a great move for everyone involved and we look forward to another successful weekend!"
A commemorative poster featuring the winning piece will be designed and available for purchase at the event.  The deadline for artist applications for the Beaches Art Fest is July 15.
The 4th Annual Beaches Art Fest will be held Ocotber 14 and 15, 2017 at the Pablo Historical Park in Jacksonville Beach, FL.  The Beaches Art Fest is presented by the Beaches Museum & History Park and Driftwood, Jacksonville Beach, FL and produced by Holiday Art Shows, St. Augustine, FL.
Call 904-241-5657 or click here for more information.